Vaccine Drive for Teens Kicks off
The wait is finally over for one segment of teenagers and their parents after our Honourable Prime Minister announced the beginning of vaccination against coronavirus for kids in the age group of 15-18 years on Christmas night last month.
Along with the rest of the country, Gurugram Administration began the vaccination process for the 15+ kids from January 3, 2022. Bharat Biotech's Covaxin is being administered every day to the kids at tens of public health centres and affiliated locations and also at many public and private schools for their students.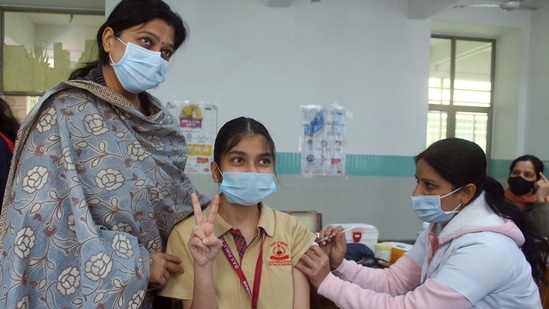 On a daily basis, a list of all vaccination centres is being published on the DC_Gurugram social media handles to facilitate the public. In addition, many private hospitals across the city also have the vials available and are doing vaccination facilitated by Cowin bookings and also for walk-ins.
Parents are hoping for their high schoolers to be fully vaccinated by the next month before they appear for their school final or board exams. The immunity may also be able to save them from contacting the fast-spreading Omicron variant of the Covid-19 virus. The caseload of active cases in the district has increased by over 1500 in just last one week since the announcement by Prime Minister Shri Narendra Modi.

Read: How To Book Vaccine Slot for 15-18 year olds on CoWin Portal
It is thus pertinent that the maximum population of these youngsters, who have missed out on a major part of their school life, being at home and attending online classes, be inoculated at the earliest so that they can return to their regular schooling by the next academic year.